What to Do After Inheriting a Mobile Home in Arizona?
You have several options after inheriting a mobile home in Arizona. If you do not plan to live on the property, you can rent it out, construct another building on the premises, or use it as a seasonal vacation property if you live in another state.
In many cases, the most convenient choice is to sell a family-inherited mobile home. Some of the nuances of this process make it different from selling a brick-and-mortar home (also known as a "stick-built house" in some circles). The primary decision is between selling the mobile home immediately or retaining it and making value-increasing improvements before putting it on the market.
Here is a closer look at selling a mobile home and other options
Options after Inheriting a Mobile Home
If you wish to live in an inherited mobile home, you can either move in directly or make renovations and improvements before using the mobile home as a primary residence. If you live in another location, you can use the home as a seasonal vacation property. In both instances, you need to consider taxes and upkeep costs.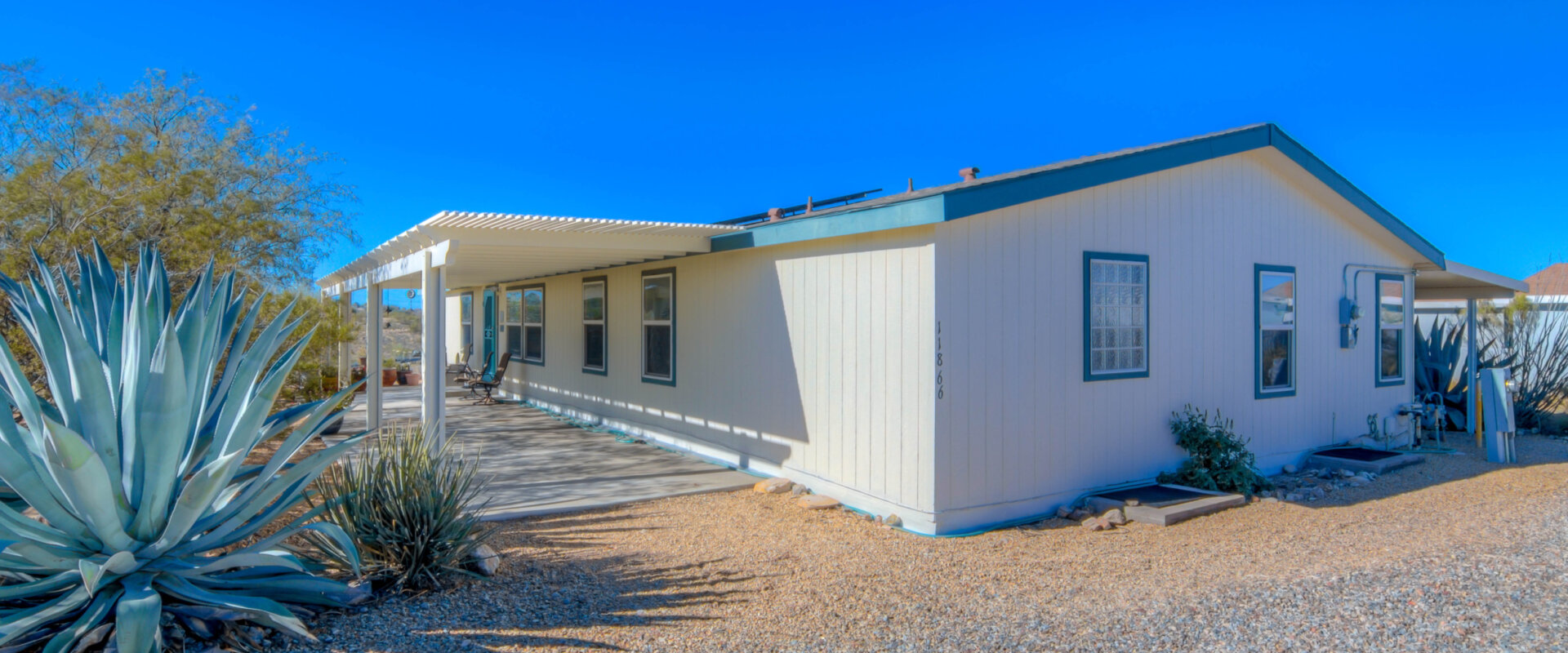 If you do not want to keep an inherited property, you have several ways to get the most out of it.
Rent it out. You can retain the property and rent it out. The advantage of becoming a landlord is that you enjoy monthly cash flow from the rental. On the other hand, you need to maintain the property, cover repair costs, and deal with tenants who don't pay on time.
List it as a vacation property. Another option is to rent the mobile home out on sites like Vrbo or Airbnb to people vacationing in Arizona. Finding short-term renters requires more work, and success depends on the state of the property and its location. If the property is near popular attractions, it could be profitable.
Donate it. Donating the property to a charity or non-profit organization can bring tax benefits. You may be able to get a partial tax credit for the donation. However, you will need to consult a tax accountant to see if this choice is more beneficial than selling the property outright.
Use the land. If you inherit the land on which the mobile home sits, you might be able to use it even if you do not wish to live in it. For instance, you can learn about building a home in Arizona that has a mobile home on the property. You can live in the new structure and either remove the inherited one or use it for storage, rental, or as an extension of the primary residence.
Scrap it. If the home is in poor condition, you might not be able to profit from it. The best way to avoid hassles, such as insurance and maintenance costs, is to simply scrap the home. This option comes with a one-time expense, so it is typically only a good option if the home is unusable or challenging to sell.
Sell it. The easiest way to profit from the property is to sell it. While selling the property ensures you do not have to worry about upkeep costs and maintenance, it comes with different challenges.
Sell your inherited mobile home for cash – fast and with no-obligations!
Have a mobile home, manufactured home, or trailer home that you inherited? We can make a cash offer or help you scrap it!
Selling after inheriting a mobile home in Arizona requires certain steps and decisions. The correct choices can ensure you profit from the inheritance without the hassle of having to maintain and manage the property.
Considerations for Selling an Inherited Mobile Home in Arizona
When selling a mobile home in Arizona, you need to consider its condition, the price, the current market for mobile homes, the size of the home and lot, the selling and closing processes, and other factors that could complicate your efforts.
Consider the Condition and Make Repairs
The first step in the selling process is to consider the state of the mobile home. You may get a higher price by making repairs and upgrades. You need to weigh the cost of these projects and see if the potential sale price justifies making them. You can look at listings and sales price data for mobile homes in the same area to estimate the potential profits.
Communicate with the Mobile Home Park
If the mobile home is in a park, you may need to meet certain conditions when selling the inherited manufactured home. You should always check with park management to learn about any rules you need to follow during the process.
Consider the Market
A well-kept mobile home should sell for the market price or higher. However, if you inherit property with a mobile home on it, you might have different considerations.
Some people may not be interested in buying land that has a mobile home on it in Arizona. The structure may reduce the attractiveness and saleability of the land. You can scrap the mobile home or move it to another location if you think it will hurt the sale price of the property.
We buy inherited mobile homes, and can help you remove it!
Need a fast cash offer on your old mobile home that you just inherited? Get a no-obligation cash offer today!
Cover All Legal Bases and Close the Sale
Buyers may expect you to negotiate the price. They will make an additional offer and expect a counteroffer. You may go back and forth several times before agreeing on the price.
After this happens, you must meet all conditions to transfer ownership to the buyer, including title, bill of sale, and other documents. Sellers hire legal professionals to handle this aspect of the job.
Because of these different challenges, you should consider working with an expert to help you decide the best way to sell the property. They can help you understand the available opportunities and navigate the selling or scrapping process. Some companies even make cash offers on inherited mobile homes.
We Make Selling Simple after You Inherit a Mobile Home in Arizona
Did you inherit a mobile home in Arizona? We can help you get rid of it, remove it, or scrap it if necessary. We make no-obligation cash offers on mobile homes in Arizona. Give Phoenix Mobile Home a call at (480) 462-6575, or fill out the form to learn more about our solutions.