Finding The VIN Number on a Mobile Home in Arizona
If you own a mobile home in the state of Arizona, then you have a vehicle identification number (VIN). This multi-digit number is included on all manufactured homes in the United States, and it's used to identify key property details. A VIN number on a mobile home is more than just a registration marker; it holds essential information about your mobile home. Among other things, you need your mobile home VIN number to get insurance, access finance, or sell your mobile home.
In this article, we'll look at VIN numbers and everything they represent. We'll review a standard VIN number, find out where they're located, and look at key differences between old and new mobile homes.
Need Help Finding The VIN On Your Mobile Home?
We can assist you and help you sell your mobile home fast for cash anywhere in Arizona!
What Is a Mobile Home VIN Number?
All mobile homes have a VIN number. From brand new to older trailers, from double-wide designs to single-wide models, this unique number helps to identify all manufactured homes. Your VIN number functions as a code, and it contains lots of important details about your manufactured home.
A VIN number on a mobile home helps to identify the following:
The manufacturer
The state where the home was constructed
Your specific home
A section code (does not exist for single-wide homes)
For example, a typical VIN looks like this: JAC AZ 987654 A.
The first 3 digits represent the factory where the home was built.
The next 2 letters identify the state where the home was constructed.
The next 6 numbers are a serial number used to represent your specific home.
A single letter specifies each section for double and triple-wide homes. This letter is not included for single-wide homes.
Where to Find a VIN Number on a Mobile Home
It's easy to find your mobile home VIN number, as this key identifier is located in just a few areas. Your mobile home VIN location depends on the year of construction, with a standardized system adopted in 1976 and followed ever since. All manufactured homes made since 1976 have been standardized by the United States Department of Housing and Urban Development (HUD), with earlier models following multiple standards based on their state of manufacture.
Where to Find a VIN Number – 1976 and Later
To find VIN information for mobile homes built in 1976 onward, you need to find the dedicated HUD Data Plate. This plate is a standard-size sheet of paper typically found on or near the main electrical panel, inside a utility or kitchen cabinet, or inside a bedroom closet.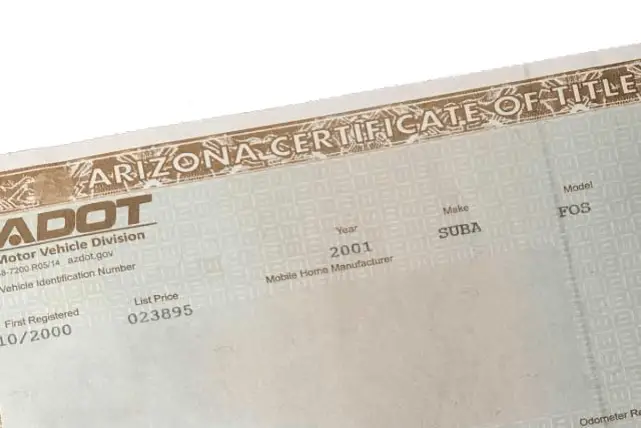 The HUD Data Plate provides the following detailed information:
A map of the United States
The Vehicle Identification Number
The Housing and Urban Development number
The date of manufacture
Where to Find a VIN Number – 1975 and Earlier
Prior to 1976, VIN standards varied throughout the US, and a number of locations were used. To find the VIN information on an older mobile home, you need to search somewhere on the steel frame. The VIN was often stamped into the steel cross member where the hitch is attached, but it can also be found on the tongue, on or near the electrical panel, inside the hot water enclosure, or inside kitchen and bedroom storage.
Trying to sell your mobile home in Arizona and can't find the VIN?
We can help you with your VIN number, and selling your mobile home in Arizona. Get a fast cash offer today!
Can You Remove Your Data Plate?
If you want to change your mobile home serial number location, it's important to follow official guidelines. While you can always replace cabinets in your home, you should always remove the Data Plate carefully to make sure it's not damaged. You need to attach the paper certificate to a different horizontal surface, so choose another cabinet or closet that's out of the way.
You should always protect your Data Plate, as it may be required in the future. Losing this important document can prevent you from insuring, financing, moving, repairing, or selling your home. One of the easiest and most effective ways to protect your Data Plate is to cover it with a thick and clear piece of laminate. Without proper protection, standard day-to-day movements inside your mobile home can easily lead to damage.
If your Data Plate is damaged or lost for any reason, you need to replace it as soon as possible. You can get a new plate by contacting the Institute for Building Technology and Safety (IBTS). A standard certification costs $50, and an expedited version is available for $100.
What Is a HUD Tag?
The HUD Data Plate is different from the HUD Code tag, which is much smaller and includes less information. This tag simply certifies that the home was built in compliance with federal safety standards. It is a small red metal plate riveted to the exterior wall of each section in your mobile home. Officially, it is called a "Certification Label." Over time, the bright red color of this tag may fade, turning pale red or even pink.
Mobile Home VIN Numbers Have Many Uses
While you may go months or even years without needing your VIN number, there will come a time when it's required. For example, you may need to state your VIN number when you're looking for insurance or finance for your mobile home, repairing or renovating your mobile home, or moving or selling your mobile home. When it comes to finance and insurance issues, your VIN number helps to determine eligibility and policy rates. Without this key information, many service providers will be unable or unwilling to work with you.
Why Choose Phoenix Mobile Home?
Are you trying to sell your mobile home in Arizona? Are you having trouble tracking down your VIN number? At Phoenix Mobile Home, we can help you with all aspects of preparation, transportation, and sale. We can obtain your VIN number for you and present you with a fast cash offer on your mobile home. If you're ready to sell your home and start a new life, please call Phoenix Mobile Home at (480) 462-6575, or fill out this form for a cash offer today!